December 2020 - Christmas Card
Friday, December 18, 2020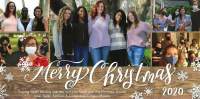 Christmas 2020
I hope this card finds you and your loved ones well. It has been a very different year for us all, but in the midst of everything Jesus is King! His kindness and love are still drawing people to Himself. His Presence is truly the purpose of our lives, and the simplicity of knowing Him is so freeing in a world full of unknowns. I am so thankful for His nearness, and pray that like myself you are finding His joy to be your strength in the midst of any challenges you may be walking through.
That being said, I wanted to include this note to tell you, THANK YOU!!!!
You have been such a part of God's grace in my life this past year. Thank you is hardly enough! Your faithful and faith-filled prayers and financial support in our ministry to college students, even during the midst of this unprecedented time, have blessed me more than you could know. And they have had such an impact!
Just look at some of the photos on my Christmas card this year:
- Top left: Idiat (in the middle) came to USF as an international student from Nigeria. She grew up Muslim and was growing in her practice of Islam while at college. She was approached on campus with the Gospel and began meeting for a Bible study, but then stopped. At the beginning of the pandemic she reached out asking to resume Bible studies, and gave her life to Jesus in October!!! This photo was at her baptism a few weeks later.
- Lower left: Sha'Corya (far left) is a sophomore at USF and I met her at the start of this Fall semester. She took one of our new QR code surveys on her phone and she shared with me she bought a Bible and started reading it on her own during quarantine. We began meeting for a Zoom Bible study weekly, and in October she prayed to surrender her life to Jesus! This photo we took on campus the next day. I was able to introduce her to two other girls (Alysa & Samantha) who live on campus and they shared their testimonies with her and she got to tell them about what God had been doing in her life.
- Top right: Alysa (middle without mask) is also a sophomore at USF. Her roommate Samantha (on her left) became a member of our church last year. We met over Zoom for weekly Bible studies throughout the Spring and Summer, and she grew so much in her relationship with Jesus. When she returned in the Fall, her friend and roommate Alysa noticed the change and wanted to know God like she saw Samantha did. Samantha brought her to church and Bible study, and at her first Bible study Alysa was ready to give her life to Christ! Samantha got to help lead her in a prayer to receive Jesus as her Lord & Savior. This photo was taken at Alysa's baptism the following week (also in October).
- Lower right: Towards the end of the semester we were able to host some socially distant fellowship and outreach events, like in this photo where we painted Christmas tree ornaments. It was great!
- Middle: With my roommates - Amanda (first on left, is on staff with me as campus minister), Iyonna (grad student), Me, Rejine (NICU nurse), and Angel (moved in with us in July, just graduated from USF this December and wants to join our campus ministry outreach staff in the coming year!)
Hope you have a wonderful Christmas and Happy New Year! Look forward to talking with you soon!!
With love,
Audra